Gaming's evolution

The Legion Laptop design has evolved to match the two sides of today's gamers—stylish on the outside, savage on the inside. Housing epic specs in a precision-cut, all-aluminum chassis, the 15.6″ Y730 sports a clean, optimized look, weighs only 2.2 kg, measures only 20 mm, and features RGB ambient  system lighting. This gaming laptop was engineered to defy expectations and shatter limits.
Focus on the game, not the bezels

The Y730 Laptop's 15.6″ display provides a near-edgeless visual experience, thanks to bezels that are considerably thinner than previous generations. You can keep your eyes where the action is—the FHD graphics rendering in more than 2 million pixels at refresh rates up to 144 Hz, with brightness levels at 300 nits. And you'll get an amazingly immersive experience from the tear-free video of optional NVIDIA® G-SYNC™ technology.
Designed for what's next

The Y730 features Intel's high-performance 8th Gen Intel® Core™ mobile processors, delivering the ultimate on-the-go performance with support for Intel®Optane™ Technology—optimized to game the way you do, with up to six cores and 12 threads for high-end gaming and pro-level content creation. Enjoy the ultimate mobile performance to take your gaming to the next level.
Essential graphics for every gamer

The Y730 is a true gaming rig, powered by NVIDIA® Pascal™—the most advanced GPU architecture ever created. This advanced GPU boosts performance in high-definition and supports DirectX12 features to deliver super-fast, smooth and power-efficient gameplay. The Y730 comes loaded with even more innovative NVIDIA® Game Ready technologies that let you experience the latest titles in their full immersive glory.
Full-throttle power beneath the hood
The Y730 has a lot of muscle underneath its thin exterior. Pooling thousands of hours of experience and expertise in battery, I/O placement, thermals, motherboard design, and more, we've packed it with high-performance gaming hardware—including up to 16 GB overclocked Corsair® Memory and PCIe NVMe SSD storage.
Precise control, fast response
As the main interface with your games, your keyboard is important to you, and the Y730 Laptop's full-sized keyboard is best in class. This 100% Anti-Ghost, Corsair iCUE RGB-backlit, high-response keyboard features six custom macro "Y" keys and RGB thermal lighting for more than 16 million customizable color combinations. Make it your own, wherever you play.
All of the power, none of the heat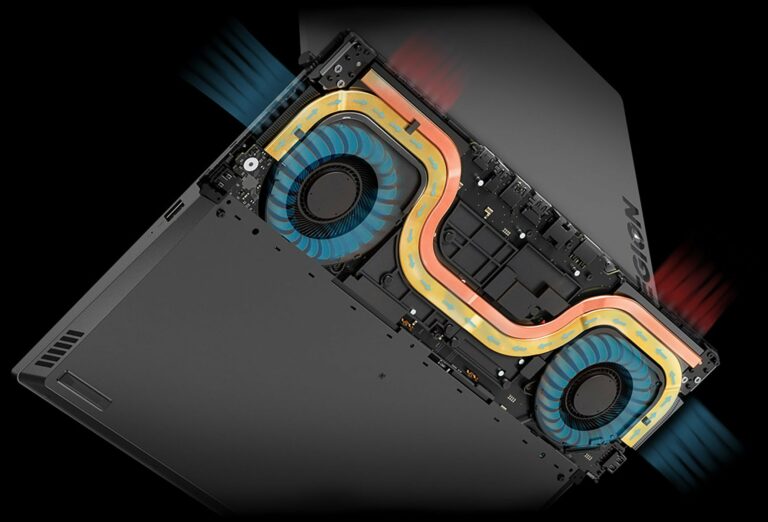 Despite its souped-up performance, the Y730 will stay cool and quiet, so you can enjoy your games. It's been remastered with a dual-channel thermal system, with the following benefits: individual CPU and GPU cooling, for cooler system temperatures; four thermal vents, for improved airflow; and 66 individual fan blades per channel, to reduce system noise.
Moving audio with Dolby Atmos®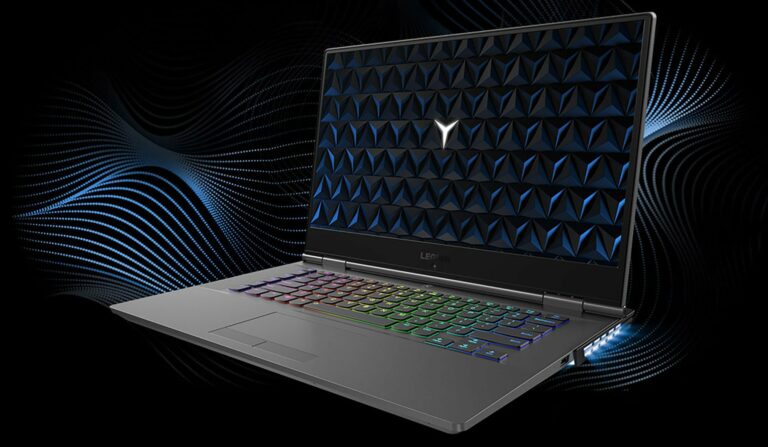 Dolby Atmos Speaker System for Gaming creates an amazing headphone experience with breathtaking, moving audio that flows above and around you. You'll feel like you're inside the action as sound comes alive with richness and depth and seems to move in three-dimensional space. Immersive and emotive, Dolby Atmos is sound you can feel—sound that creates a powerfully moving entertainment experience.
Full connectivity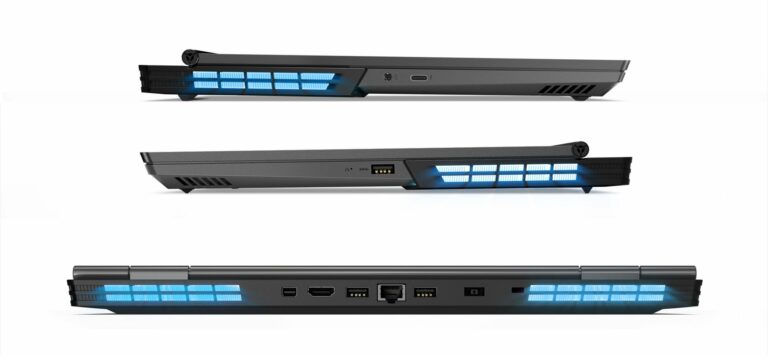 The Y730 features a convenient array of ports and connectors; plug in an external device or accessory, or simply charge or secure your laptop with the following, as shown above:
1. Mini DP 1.4 port
2. HDMI 2.0 port
3. 2 x USB 3.1 Gen 2 ports*
4. RJ-45 port
5. AC adaptor port
6. Kensington Lock slot